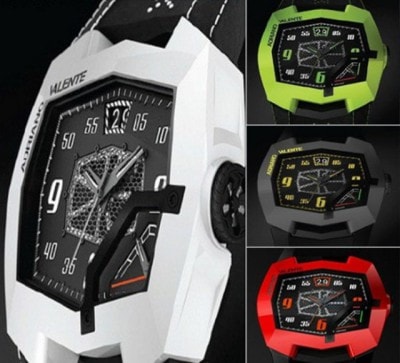 Match your watch with your Lamborghini, I mean, why not? Well, of course, as long as you have the $35,100 for the head-turning accessory.
What makes the price tag worthy? The AV-L001 is inspired by Lamborghini and designed by Adriao Valente with the timepiece derived from Karbonyte, an alloy that uses carbon fiber element. Talk about an ultra-cool design - the AV-L001 takes its shape from the Lamborghini speedometer with the hours matching the Arabic numerals on the black dials, with 3, 6, and 9 showing the hours. Another unique feature? The movement of the watch is based on the mechanical Engine 001 movement. Plus, this eye catcher comes equipped with a sapphire crystal cover that is anti-reflective and scratch resistant.
Want to match your Lambo? Not a problem, with a range of colors to choose from such as Nero Tartarus (Karbonyte color), Giallo Hyperion (yellow), Rosso Eos (red) and Green Icaria (green) to name a few. So now that you have the rundown, would you spend the $35k on one of these badboys? Tell us on Facebook or via Twitter.
Looking for a Lamborghini to match your new item of the moment? Peruse our online inventory, or even better, come visit us at our Lamborghini North Los Angeles dealership.