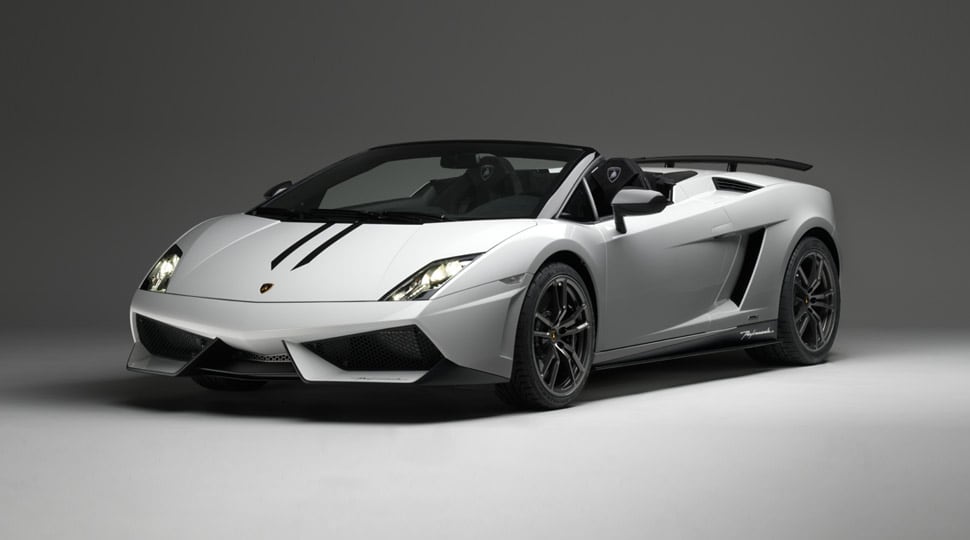 Lamborghini often takes a brilliant car that already fits into the supercar category and makes it faster and lighter. In 2011 Lamborghini took the Gallardo Spyder to their mad scientists in order to strip weight, and add power. The result of their efforts is the
Lamborghini Gallardo LP570-4 Spyder Performante, available in Los Angeles.
The Gallardo LP 570-4 Spyder Performante is the next step in Lamborghini's Gallardo fleet and its all about weight loss. The LP 570-4 Performante is a vamped up version of the
LP560 Spyder
, lost 140 pounds and added some stunning visuals. The most noticeable of the new additions are the two racing stripes that grace the hood of every LP 570-4 Performante. This raging bull comes with the same power of the
Gallardo LP 570-4 Superleggera
, 562, and the drop top from the Gallardo Spyder. The green, white, and red decals that line the LP 570-4 Spyder Performante's spine bring visions of Italian perfection, and when mixed with the carbon fiber accents, the Performante's appearance truly embodies the future of auto-engineering.
The
LP 570-4 Spyder Performante
isn't just for show though. With 562 horsepower, the Performante's 5.2-liter V-10 makes 10 more horses than the one in the regular Gallardo LP560. Full power is available at a screaming 8000 rpm; while maximum torque is 398 lb-ft at 6500 rpm. On its elegantly designed 19-inch rims, the Gallardo LP 570-4 Spyder Performante has the ability to go 0-60 mph in 3.9 seconds on its way to a 201 mph top-speed.
To add to the already stunning frame, the
LP570-4 Spyder Performante
comes wrapped in Alcantara and carbon fiber, making the Performante look fast and sleek, even while standing still. Carbon-fiber composite materials throughout the Spyder Performante, including for the engine cover, the optional rear spoiler, the diffuser, parts of the under-body panels, and the mirror caps helped the Performante shed the extra-weight that the LP 560 Spyder had.
With the new
Gallardo LP 570-4 Spyder Performante
, Lamborghini is setting a new benchmark in the most fascinating automobile segment of all the open-top super sports car.
Ready for your
Gallardo LP 570-4 Spyder Performante
in Los Angeles? Come visit our
Los Angeles Lamborghini dealership
and browse our inventory.

Like us on

Facebook

or

find us on Google+

and add us to your circles

for the latest events, videos and hangouts with industry professionals on Lamborghini topics.
Want to know more about us? Check out
Inside TAG
to get a glimpse of the A-list lifestyle.